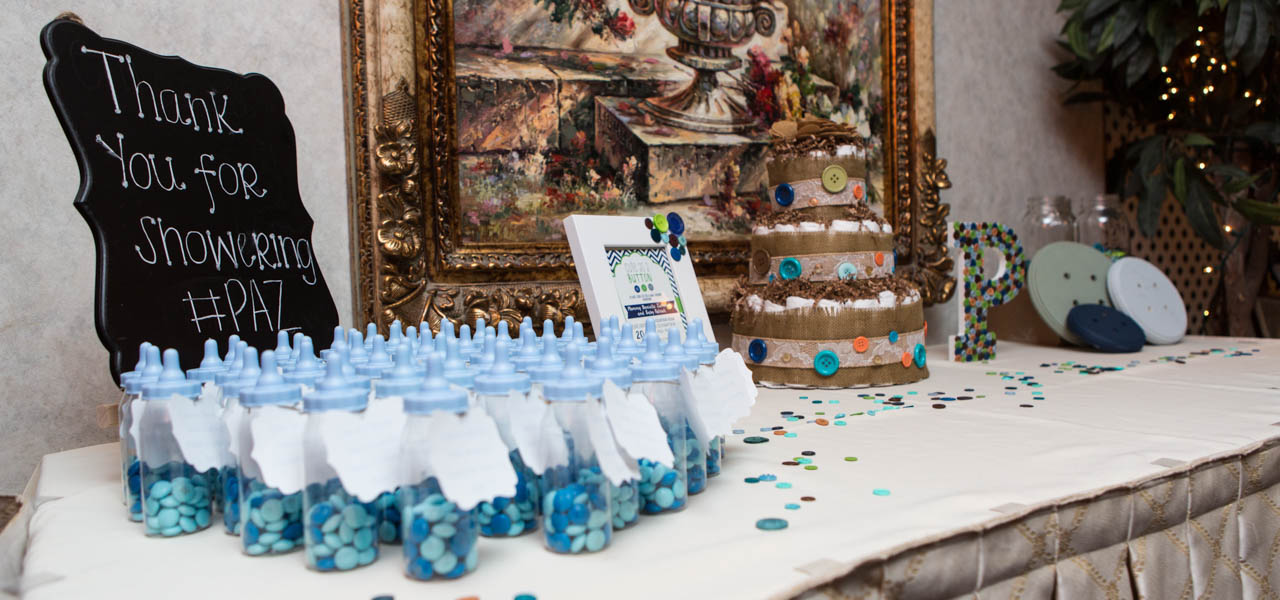 Victorian Room Shower Buffet

Duration of affair is four (4) hours.
Buffet is served for two (2) hours.
Shower bar is open for four (4) hours.
Minimum of 50 guests is required.
$400 Deposit is required upon signing contract.
Payment is due in full ten (10) days before date of affair. We accept Cash, Check or Credit Card (small fees apply, differ by hall).
This package is priced for Sundays and designed for showers only.
All tables are covered with table covers.
A candle centerpiece will be displayed on each table.
You can bring in your own centerpiece (talk to sales associate).
We will supply two skirted gift tables, umbrella and guest of honor chair.
Price includes China & Silverware, Water Glasses each setting and cloth Napkin
Disposable plastic ware (plastic forks, plastic knives, etc.) can substitute china and silverware (No water glasses, no cloth napkins and no carved entrees)-Deduct $2.00 per person
Assorted miniature sweet table is $3.50 per person extra.
Customers are not permitted to bring in their own sweets.
Tiered pound cake can be provided for $7.50 per pound.
Customer can supply their own cake (we cut and wrap cake-cake is not served to each guest.)
An extra entrée will cost $2.00 per person extra
An extra vegetable will cost $0.75 per person extra.
Coat Room attendant can be provided for $25.00.
No confetti items allowed to be placed on tables.
No decorations can be placed on walls or glass without approval from Milillo Event Group/P&P Caterers.
Tips for Workers- A minimum of $40.00 per worker is due the day of your affair (Must be paid in cash).

Entrees (Select 3)
Sliced Roast Beef in Gravy

Sliced Roast Pork in Gravy

Sliced Glazed Baked Ham in Gravy

Meatballs in Sauce

Turkey Breast & Stuffing in Gravy

Sausage with Peppers & Onions

Italian Sweet Sausage in Sauce

Sausage Scallopine

Veal Scallopine

Additional Cost

Chicken Vino

Chicken Portobello

Additional Cost

Chicken Colonial stuffed with Bread Stuffing

Additional Cost

Chicken with Prosciutto, Provolone Cheese in Vermouth Sauce

Additional Cost

Chicken Ala King with Butter Noodles

Chicken Cutlet with Italian Sauce on side

Chicken Parmigiana

Chicken Ala Rosa

Kielbasa & Sauerkraut
Baked Tilapia

Additional Cost

Baked Flounder

Additional Cost

Shrimp Chow Mein with Rice

Stuffed Shells

Baked Lasagna

Tortellini Alfredo

Tortellini Ala Rosa

Linguini with Oil and Garlic

Linguini Ala Rosa

Eggplant Roulette

Penne Pasta & Crab Meat in Crab Sauce

Additional Cost

Penne Pasta with Roasted Peppers, Spinach in Gourmet Sauce

Penne Pasta in Butter Crème Sauce

Penne Pasta in Red Sauce

Baked Penne Pasta

Penne Ala Rosa

Fettucine Alfredo

Vegetables (Select 1)
Roasted Red Bliss Potatoes

Garlic Mashed Potatoes

Mashed Potatoes

Broccoli with Butter & Garlic

Italian Vegetable Medley

California Style Vegetables

Broccoli Almondine Rice
String Beans Almondine

Stir Fried Vegetables

Vegetable Medley

Buttered Corn

Wild Rice & White Rice Blend

Spanish Rice

Salads (Select 1)
House Salad

Romaine hearts mixed with tomatoes, red onions, carrots, cucumbers and croutons<br /> Topped with choice of 4 Dressings - Ranch, Italian, Russian or Oil & Vinegar
Caesar Salad

Romaine hearts mixed with shaved parmesan cheese, croutons and caesar dressing

Rolls
Freshly Baked Rolls served with butter

Coffee and Tea
Freshly Brewed Coffee, Decaf Coffee and Tea with Sugar, Sweet & Low and Cream

Shower Bar
The Shower Bar is a self-service bar that includes the following:
Carafes of Wine (White Zinfandel, Merlot, Pinot Grigio, Chardonnay, Pinot Noir, Cabernet Sauvignon)
Bottled Beer (Miller Lite, Coors Light, Yuengling Lager)
Pitchers of Soda (Coke, Diet Coke, Ginger Ale, 7 Up)
Specialty Punch (Select one (1) Whiskey Sour, Vodka Sour, Fuzzy Navel, Fruit Punch (Non-Alcoholic or Alcoholic)